Table of Contents:

- Introduction to the 42RLE Transmission
- Chrysler 42RLE Product Resources
- Popular Transmission Information Resources
- In this Drivetrain 101, we will be addressing
- A Brief History of the 42RLE Transmission
- Problem #1 - The Valve Body
- Problem #2 - The Accumulation System
- Problem #3 - The Torque Converter
- Problem #4 - The OEM Bushings
- Problem #5 - The Oil Pan
- Problem #6 - The Overdrive Clutch Assembly
- Problem #7 - The Oil Pump
- Conclusion to the 42RLE Transmission



Introduction to the 42RLE Transmission:

     Known as an extraordinarily unreliable unit, the Chrysler 42RLE transmission is notorious for leaving vehicles dead on the road, or even worse, off the road. As many know, Next Gen Drivetrain stands at the forefront of engineering, developing and manufacturing higher quality, more durable and better shifting 42RLE transmissions. 

     Our intent for this Drivetrain 101 installment is to share our research and conclusions with the public to better educate consumers and technicians alike on the known failure points of this transmission as well as how to make it stronger. If you seek to be informed and educated on the prolific 42RLE transmission, you've come to the right place.
Chrysler 42RLE Product Resources:

- 42RLE Transmissions
- 42RLE Torque Converters
- 42RLE Rebuild Kits
- 42RLE Valve Bodies
- 42RLE Parts

Popular Transmission Information Resources:

- Top 5 Benefits of an Upgraded or Built Transmission
- Calculating Torque Multiplication Factor, Why is it So Important?
- Top 5 Ways to Extend the Life of a Factory Transmission

In this Drivetrain 101, we will be addressing:
- The most popular failures we witness on the 42RLE transmission
- Its capabilities (or lack there of) in reference to TCM tuning and shift/lockup protocol modification
- The strengths (believe it or not, there are a few!) of this transmission
- Special Footnotes for Jeep and Dodge Owners
And much, much more!

>>> View our 42RLE Transmissions & Parts Catalog Here!


A Brief History of the 42RLE Transmission:
     Implemented for the 2003 model year, the 42RLE Transmission is the direct successor to the similar 42LE but converted to rear-wheel drive. It is known as one of the most unreliable transmissions ever manufactured by Chrysler, seeing it out of production entirely by 2012.
     The 42RLE transmission is commonplace in Jeep and Dodge passenger vehicles and light SUV's from this timeframe. This includes but isn't limited to the Wrangler, Nitro, Liberty, Magnum and more.
     The majority of Wrangler customers, in specific, will experience fault with this transmission from the large tire size, poor aerodynamics and natural rigors or intended application. 
     Halfway through the 42RLE transmissions tenure, in 2007, the system was designed to operate as a variable line pressure system, rather than a static pressure system.
     This means that the transmission fluid pressure of Pre-2007 42RLE transmissions (Non-VLP) wouldn't change, but the line pressure of 2007 and beyond 42RLE transmissions would vary up and down based on engine load. This was designed to be provide smooth and favorable shifts. Now, we will analyze the known failure points of this transmission as well as what we do to correct and enhance them.
Problem #1 - The Valve Body
     Iterated by 2 varying formats, VLP (Variable Line Pressure) and Non-VLP, the 42RLE valve body has left much to be desired throughout its tenure, especially to the automotive aficionado/enthusiast. Fortunately, it's ailments are easily resolved by many Next Gen Drivetrain inventions that enhance shift quality, performance and reliability.
>>> View our 42RLE Transmissions & Parts Catalog Here!


     One of the most popular problems in the valve body is the tendency of the valves to leak over time. This is common in many transmissions, but is a known brand tenet in the Chrysler transmission world. 42RLE transmission valves are made out of aluminum and feature cleaning lands on many valves designed to help keep them from sticking.
     Unfortunately, this accelerates damage to the bore over time making it difficult to keep this transmissions locomotive for the life of the vehicles. As these issues develop, the 42RLE transmission can begin to shift poorly, often flaring, banging or winding out during shifts. It is because of this that we use our popular NeverLeak Steel Valves extensively in all levels of 42RLE transmission build, consecrating a sense of security for all applications.
     The separator plate of the transmission is also very very thin. This is not a problem the day the vehicle leaves the dealership, but is a profound problem years later. These thin plates allow for oil to leak past the oil circuits of the valve body under high line pressure, especially in areas where flexion or the parent castings begin to occur.
     Fortunately, we manufacture a laser cut separator plate that is multiple times thicker than the OEM, also featuring a host of oil circuit modifications designed to endorse favorable shift quality, predictability and lower operating temperatures.
Problem #2 - The Accumulation System
     As with most Chrysler units, the 42RLE transmission relies heavily on accumulation to manage oil flow inside the transmission. Also as with most Chrysler units, they're not very good; in fact, they're plastic. Compare this to the steel accumulators found in your local Toyota Tundra and you'll quickly understand the problem.


     Further, they just don't seal. They have 2 scarf cut seals that don't grab the bore well and aren't air tight even at zero miles. They vent considerably. This transmission has vents in every clutch pack and doesn't need to vent through accumulation. There's no logical reason for this other than saving money. This results in soft and unresponsive shifts.
>>> View our 42RLE Transmissions & Parts Catalog Here!
     In resolution of this concern, we only manufacture any 42RLE transmissions that utilize our Project Carbon Billet Accumulator Pistons, the only truly air tight pistons on the market. They feature 5 seals and precision straightened bores designed to keep the springs laser straight and prevent spring collapse over time. This supports near instant yet seamless shifts. This is a must for everything from reliable daily driven vehicles to demanding performance applications.
Problem #3 - The Torque Converter
     Essentially a 41TE torque converter in disguise, the 42RLE torque converter has many of the same problems. For those who are unversed, this means heat, deflection and lost power. We are devout to preventing these issues in all torque converters that we manufacture.
     The cover inside the torque converter, the piece that mates to the flexplate, is known to heat up and cool down thousands of times in its life, causing warpage. The problem is that the backside of the cover is the mating surface for the clutch inside the torque converter.


      Similar to having a warped brake rotor, this can cause poor synchronization and even vibration in advanced cases. A CNC machined billet cover is standard on our 42RLE transmission to ensure this problem is permanently resolved.
>>> View our 42RLE Transmissions & Parts Catalog Here!
      Further, the factory fins and stator can flex and displace, causing excess heat and lost power by artificially increasing the stall speed of the torque converter. This is unfavorable for almost all applications. Furnace brazing of the impeller along with an upgraded sprag retainer to protect these critical components is an uncommon practice, but is standard in all Next Gen 42RLE torque converters.
Problem #4 - The OEM Bushings
     As many transmissions in the Chrysler lineage do, the 42RLE transmission bushings are prone to poor longevity. This is accelerated by poor fluid maintenance and irregular filter changes. The microcontaminants shed by wearing friction plates have an erosive affect on the factory bushings.
      The resolution is rather simple, bronze bushings are available on the aftermarket which are much more durable and impervious to these natural ailments that all transmissions face. At Next Gen, we only utilize upgraded bushings in all 42RLE transmission builds. 
Problem #5 - The Oil Pan
    The factory transmission oil pan was designed to accomplish one thing and one thing only, save money. This pan is stamped from a heated up sheet of steel that isn't strong enough to withstand any level of shock or maltreatment. The pans are also incredibly shallow, barely even allowing the factory filters to function properly.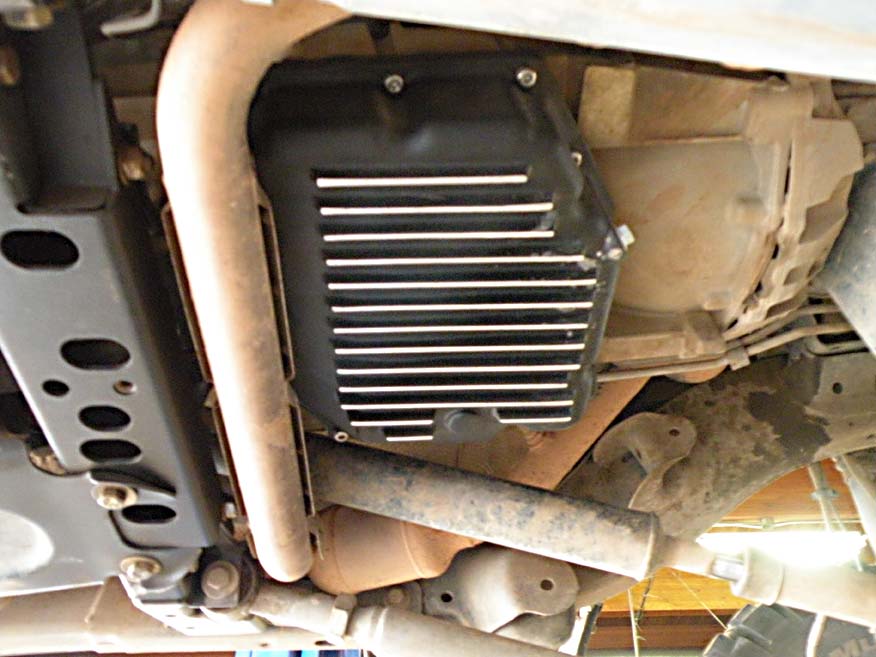 This is an objectively horrible decision and does not contribute to the longevity, health or operation of the transmission. Something to take into consideration when considering a deep transmission pan is the added time between transmission service intervals. Adding 20-30% more oil extends the amount of time between transmission services by a roughly similar figure. The same logic also applies to heat.
>>> View our 42RLE Transmissions & Parts Catalog Here!
      Added benefits of an aftermarket pan include the implementation of a drain plug. This makes the act of servicing your transmission extremely fast, easy and clean. The factory pan does not come with any of these benefits, leaving it the least qualified option of any. A 42RLE transmission deep pan should be among your first considerations when upgrading this problematic transmission.
Problem #6 - The Overdrive Clutch Assembly
      As with all transmissions, the overdriven gears (if it has them) have the highest torque multiplication factor of any gears inside the transmission. This means that they experience the largest amount of load and require the largest amount of load capacity to support their reliability.


      The 42RLE transmission is notoriously underbuilt in this area, making it a frequently burnt or damaged clutch pack found in many rebuilds. This is disproportionately common on vehicles with larger than OEM tires, added power or who haul additional load frequently.
      As a standard practice, we use upgraded friction materials and steels plates in this portion of the transmission regardless of application. This is easy insurance to prevent these failures in more demanding applications, but also in basic applications looking for a longevity build.
>>> View our 42RLE Transmissions & Parts Catalog Here!
Problem #7 - The Oil Pump
     Although the 42RLE transmission's pump is not as problematic as others on the market, it is still prone to gear wear caused by side load and oil contamination. This can cause the transmission to lose peak line pressure and build pressure more slowly.
     This is easily resolved by installing steel pump gears that do not damage the pump body over time. Pumps where the protective coating has already been pierced by preexisting gear damage must be replaced to properly resolve these concerns. This ensures superior pump performance under all conditions.
Conclusion to the 42RLE Transmission:
     As it comes from the factory, the 42RLE transmission is certainly lest than robust. As with most mass-produced transmissions, there are aftermarket solutions available to ensure that they are successful and capable. Next Gen Drivetrain is proud to lead this charge. Still have questions? Call in and speak to one of our experts today!